We had a lot of interest in the wind turbine proposal at the exhibition held at the Atkinson on June 28th.  Most people were very supportive though there were some concerns, particularly around noise generation.  The noise study we have had done has suggested that the only issues might be with the top end of the caravan park, and then only if the wind is blowing from the north west.  We suggest anyone concerned about noise visits the two turbines at Altcar, these are slightly smaller than our proposal but don't have feathered blades which ours will have (which reduces the noise levels).
Ian Mclean of Locogen and Ed Gommon at the Atkinson exhibition.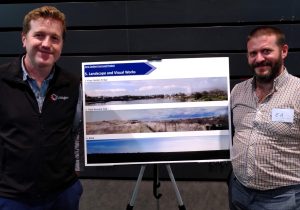 Locogen's exhibition Boards are available here
https://southportcommunityenergy.org.uk/files/2023/07/Southport-A1-Information-Boards-Final-page-1.pdf.
https://southportcommunityenergy.org.uk/files/2023/07/Southport-A1-Information-Boards-Final-page-2.pdf
https://southportcommunityenergy.org.uk/files/2023/07/Southport-A1-Information-Boards-Final-page-3.pdf
https://southportcommunityenergy.org.uk/files/2023/07/Southport-A1-Information-Boards-Final-page-4.pdf
https://southportcommunityenergy.org.uk/files/2023/07/Southport-A1-Information-Boards-Final-page-5.pdf
https://southportcommunityenergy.org.uk/files/2023/07/Southport-A1-Information-Boards-Final-page-6.pdf
Sharenergy's exhibition can be found here,  https://southportcommunityenergy.org.uk/files/2023/07/Southport-CE-for-exhibition-28.6.23-.pdf